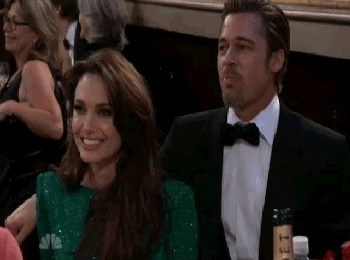 Angie applying lip gloss while Brad chomps on his gum trying to contain his ego.


Robert Pattinson and Alexa Chung either super bored with each other or wanting to rip each other's clothes off.


Of course, Ricky Gervais' opening monologue.


And my MOST favourite part of the Golden Globes...........
Mark Ruffalo's reaction to Natalie Portman saying how much
the creepy guy with the awful hair sitting in front likes to sleep with her
. As Natalie put it,
"Thank you to Benjamin… Benjamin choreographed the film, and you may remember him as the guy who, when they ask, Would you sleep with that girl? and he's like, "No." He's the best actor, it's not true, he totally wants to sleep with me!".
Guess she thought that wouldn't be awkward now that she is pregnant. On second thought, I guess I like all of their reactions.
If you really need to see it for your self, here is her speech.